RM5,988.00 - RM6,338.00
RM6,650.00 - RM7,000.00
Aquasolar L80 (363 liters) Solar Water Heater Malaysia (c/w Installation)
Price

RM5,988.00 - RM6,338.00

RM6,650.00 - RM7,000.00

Product SKU
product-1587903108015
Brand
Aquasolar
Availability
In Stock
Installation Site Location
Quantity
Description
Highlight
304 Grade Stainless Steel (1.2mm thickness)
Pressurelized System
1 year GUARANTEE + 9 yeas Warranty
100% full set anti rusted material
Relief Valve Setting 850kPa (Higher Pressure)
Backup Heater
Outer Casing - Stucco Aluminium
10 riser tubes for each panel (Higher Efficiency)
Aquasolar L80 Solar Water Heater Malaysia (363 liters) with installation


FREE Mystery Gift worth RM100, while stock last!




CONTACT US NOW TO CHECK THE BEST PROMOTION PRICE!

RM5,988
L80 Technical Informations & Specifications
The L Series is suitable :
Residential / Commercial which requires :
• High temperature, mid-efficiency
• Robust installation

FOR USAGE 8 TO 9 PEOPLE
| | |
| --- | --- |
| L SERIES | L80 |
| Warranty | 9 Years Warranty + 1 Year Guarantee |
| OVERALL DIMENSION | |
| Tank Capacity | 80 Gallons (UK) 363 Litres (300L) |
| Overall Dimension (L x W x Di) | 2438mm x 2438mm x 584mm |
| Weight – Full | 574kg |
| Weight – Empty | 224kg |
| STORAGE TANK | |
| Tank Dimension | 2134mm x 584mm |
| Outer Casing | Stucco Aluminium |
| Storage Tank Insulation | 50mm High Density Polyurethane Foam (CFC Free) |
| Cylinder Material | Marine Grade Stainless Steel |
| Nominal Working Pressure | 750 kPa |
| Test Pressure | 1500 kPa |
| Relief Valve Setting | 850 kPa / 99°C |
| Laminar Flow Stratifier | Yes |
| Electric Booster | 3 kW |
| SOLAR COLLECTORS | |
| Number Of panel | 3 |
| Surface Area (L x W) | 1820mm x 2438mm |
| Number Of Riser Tubes | 24 |
| Method | Plate and Tubes |
| Collector Panel | Matt Black Aluminium / Copper |
| Casing Material | Aluminium |
| Glass Material | Tempered Glass |
| Efficiency | > 85% |

Designed to Meet Local Requirement :
A range of 66 & 80 gallon models to suit your needs

Retain Heats :
50mm High density polyurethane foam to maximum heat retention.

Top Quality Material :
High quality corrosion-free material such as stainless steel, copper and aluminum to ensure long life and performance.

Proven Safe :
About 70°C and safety feature of relief valve controls the heat pressures.

Back Up Heater :
To ensure hot water during raining season or over usage.

Number of Riser Tubes :
More tubes in the panel to ensure fast heating and optimum flow rate leading to higher efficiency and effectiveness.

Aqua Solar L80 Solar Water Heater
Frequently Asked Question

1. Which Model/Capacity to choose?
Model/ units
| | | |
| --- | --- | --- |
| | Usage | Maximum of bathroom |
| L66 x 1 | 1 ~ 6 people | 1 – 4 bathroom |
| L80 x 1 | 1 ~ 8 people | 1 – 6 bathroom |
| L66 x 2 | 1 ~ 12 people | 1 – 9 bathroom |
| L80 x 2 | 1 ~ 14 people | 1 – 11 bathroom |
*The calculation at the left is based on a shower head (6") and 10 minutes for each person bathing.
*Calculation is for guidelines only, as many factors will affect the result. Eg: time of bathing, weather, water pressure, sizes of shower head.
As a guideline, households with up to 6 people should opt for the 66 gallon models, whereas larger households can either choose the 80 gallon models or to install two or more smaller systems.
Remember that Jacuzzis and bath tubs use a lot of water – factor in about 15 gallon (68l) per use for a regular bath tub.

2. Where to allocate the solar water heater?
Roof which can fit the Solar Water Heater.

L66 – 1800mm x 2400mm
L80 – 2400mm x 2400mm

Direction (accordingly)
Height (Recommended)

Highest of the building to avoid blocking

Roof trust

Ensure the trusses is strong enough to support the weight of solar (especially for L80)
Recommend to re-inforce the trusses for old buildings

Near cold water tank

Normally will recommend to install nearby the cold water tank and the pump's location as cold water supply to the solar is from the cold water tank
3. What things to prepare before installation?
Hot and cold water piping system. 0.5 inches (½") Stop-cock have to be standby in 10 feet below/nearby the Solar Water heater, is either inside or outside ceiling.
15 Amp Power Point required to be ready in 10 feet below/nearby the solar water heater.
If the house is require a pump, will recommend to install it before install solar.
Water and electricity supply
4. What type of roof can install the solar water heater?
Aquasolar hot water system can be mounted at any position, however we will usually recommend that the Solar water heater should be installed at an inclination. We advise you to installation at highest location for optimum heat absorption.
For flat roof installation, an angled aluminium rack should be installed to provide necessary inclination.

5. What is the basic installation included?
Three (3) meter of hot and cold stainless steel piping for solar system inlet and outlet.
3kW Backup electrical booster and thermostat
Italy pressure temperature valve (PT valve) to control the pressure
6. What are the things excluded in the basic installation?
Piping insulation
Aluminium rack for flat roof installation
Crane charges
Water Pressure Pump
Mixer Taps
Extra hot/cold water pipes which more than 10 feet
Internal house's power point for the backup heater
7. When should I turn on the heating element?
Raining season
Over usage of hot water
Hazy season
8. Will I get hot water even on rainy days or nights?

A short period of rainfall will not affect the supply of hot water because AQUASOLAR's tanks are insulated with 50mm of high-density polyurethane and fiberglass wool to retain heats. On an average, it heats water to about 70oC in the day and loses only about 8% of heat at night. Even if it is overcast, there is enough radiated heat to maintain the temperatures of the water at a comfortable level. However, if there are few days of cloudy day, it would require to switch on the backup heater.

9. Do I need to install a water pressure Pump for the solar?

All AQUASOLAR™ products are high-pressure systems which means you only need one water pump to drive both cold and hot water throughout the house. AQUASOLAR is not need to have a pump for its circulation through the system.
Our solar system uses Thermosiphon system in heating, when the water is heated it rises. However, we are always recommend customer to purchase a pump for the cold water tank to increase the pressure of cold water for a better enjoyment.
10. How much do I save?
Appliances with heating elements consume the most electricity in our homes. Using solar water heaters will help you make significant savings when compared to the cost of purchasing, installing and using instant heaters and boilers.
Here is a typical comparison in between instant heater and solar water heater.
| | |
| --- | --- |
| Instant Heater | |
| Number of instant heaters | : 4 |
| Cost per instant heater | : 350 |
| Installation cost | : 150 |
| Cost of Purchase | : 4 x (350 + 150) = RM2000 |
| | |
| Number of persons | : 6 |
| Number of showers per day | : 2 per person |
| Average time per shower (min) | : 15 |
| Heating element rating | : 3.3kW |
| Electricity tariff | : 0.276kW/Hr |
| Monthly Cost | : 6 person x 2 times x (15/60) hour x 3.3kW x RM 0.276 x 30 days = RM 81.97 |
| Yearly Cost | : RM81.97 x 12 months = RM 983.64 |
| | |
| AQUASOLAR L66 Heater | |
| Cost per solar water heater | : 5250 |
| Installation cost | : 0 |
| Cost of Purchase | : RM 5250 |
| | |
| Return On Investment (ROI) | : 5250 – 2000 = 3.3 years |
| | RM 983.64 |

Aquasolar 363L (80 gallons) Solar Water Heater

AquaSolar™ solar water heating systems uses the latest developments in solar technology to produce high quality, efficient water heaters for residential and commercial use. Thorough the years of experience, we understanding more of home owners' needs and that result in the product's functionality and efficiency. The products are designed and engineered to fully optimize the sun's power in warming up water without shooting up the costs – it's the perfect balance of technology and nature!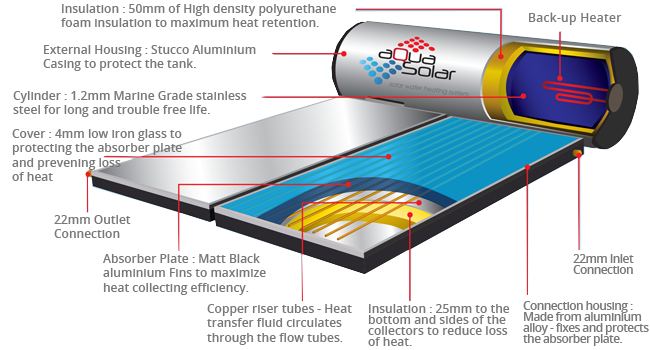 What's in the box
1x 80 gallons (363 liters) Solar Storage Tank
3x Solar Panel
1x Heating element
1x Thermostat
1x Pressure Temperature Valve
1x Non Return Valve
1x Starter Kit (including pipings and fittings)