Aqua Solar L66 + PureGen PGH2-40 Water Pump (Aquasolar With Installation, Puregen Pump Supply ONLY) Purchase with purchase Waterco/ puregen Outdoor Filter with promotion price
Price

RM5,088.00

RM5,368.00

Product SKU
Aquasolar L66 + Puregen PGH 2-40
Brand
Aquasolar
Availability
In Stock
Quantity
Description
Highlight
Special PROMOTION Package for Hot Water System + Water Booster Pump
1 x Aqua Solar Hot Water System (L66, 300 Liters) with Installation
~ Suitable for Single/Double Stories with 5 - 6 person showering 2 times a day.
~ Click HERE to find out more
1 x PureGen PGH2-40 Water Booster Pump (0.75hp) for Supply ONLY
~ Suitable for Single/Double Stories with 2 to 4 bathrooms.
~ Click HERE to find out more
Purchase with Purchase Promotion Item on top of the Package
- PureGen PGM942 Outdoor Sand Water Filter : RM680 RM590
- WaterCo W250 Outdoor Sand Water Filter : RM1250 RM1100
Aqua Solar L66 Solar Water Heater Malaysia (300 liters, c/w Installation)

L66 Technical Informations & Specifications
The L Series is suitable :
Residential / Commericial which requires :
• High temperature, mid efficiency
• Robust installation

FOR USAGE 6 TO 7 PEOPLE

| | |
| --- | --- |
| L SERIES | L66 |
| Warranty | 9 Years Warranty + 1 Year Guarantee |
| OVERALL DIMENSION | |
| Tank Capacity | 66 Gallons (UK) 300 Litres |
| Overall Dimension (L x W x Di) | 2438mm x 1820mm x 584mm |
| Weight – Full | 398kg |
| Weight – Empty | 93kg |
| STORAGE TANK | |
| Tank Dimension | 1830mm x 584mm |
| Outer Casing | Stucco Aluminium |
| Storage Tank Insulation | 50mm High Density Polyurethane Foam (CFC Free) |
| Cylinder Material | Marine Grade Stainless Steel |
| Nominal Working Pressure | 750 kPa |
| Test Pressure | 1500 kPa |
| Relief Valve Setting | 850 kPa / 99°C |
| Laminar Flow Stratifier | Yes |
| Electric Booster | 3 kW |
| SOLAR COLLECTORS | |
| Number Of panel | 2 |
| Surface Area (L x W x D) | 1854mm x 16200mm x 70mm |
| Number Of Riser Tubes | 20 |
| Method | Plate and Tubes |
| Collector Panel | Matt Black Aluminium / Copper |
| Casing Material | Aluminium |
| Glass Material | 3.2mm Tempered Glass |
| Efficiency | > 85% |

Designed to Meet Local Requirement :
A range of 66 & 80 gallon models to suit your needs

Retain Heats :
50mm High density polyurethane foam to maximum heat retention.

Top Quality Material :
High quality corrosion-free material such as stainless steel, copper and aluminum to ensure long life and performance.

Proven Safe :
About 70°C and safety feature of relief valve controls the heat pressures.

Back Up Heater :
To ensure hot water during raining season or over usage.

Number of Riser Tubes :
More tubes in the panel to ensure fast heating and optimum flow rate leading to higher efficiency and effectiveness.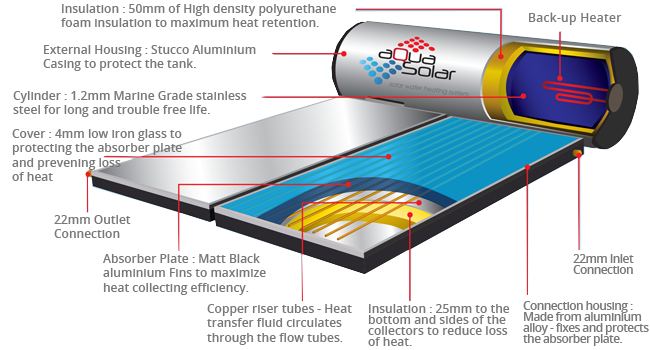 PureGen PGH2-40 Water Booster Pump
Brand: PUREGEN
Model: PGH2-40
Type: Pressure Controlled Water Pump
Hose power: 0.75hp
Warranty: 2 years
Supply for : 3-4 bathrooms usage
5S Features
Smart
A distinctive and reliable controller to start-stop the pump smartly and quietly deliver the water pressure.
Silence
Its design with its distinguished and innovative technology to complete the pump with extremely quiet in operation.
Stylish
Designed with advance technology with stainless steel materials.
Superior
Pump is manufactured according to world class standard and stringent PureGen quality programme.
Simple
Easy to install and operate, actual settings are clearly indicated by indicator lights on user friendly control panel.
Quality
PureGen works with the NSF, and the WQA to ensure the highest quality and safest products. Many of our products are certified to the toughest industry standards. Our NSF series R.O. systems are certified to NSF / ANSI Standard 58.

Value
PureGen has been a leader in providing water treatment systems and components for over 15 years. With a diverse and growing product line of products made in the USA and overseas, we are able to provide you with the quality and pricing you need to be competitive in today's challenging market.

PureGen Water Pump Specifications

Special Innovation
Electronic Pressure Control
Automatic start / stop control
Dry run protection
Stainless Steel 304 Pump Housing with stand rust and rupture
Stainless Steel 316 Impellers for higher efficiency impellers design
Able to withstand high dynamic stresses

Motor
High efficiency and performance
Quiet operation