Aqua Solar L66 + Grundfos CMB3-46PM1 Water Pump (Aquasolar With Installation, Grundfos Pump Supply ONLY) Purchase with purchase Waterco/ puregen Outdoor Filter with promotion price
Price

RM5,388.00

RM5,748.00

Product SKU
Aquasolar L66 + Grundfos CMB3-46PM1
Brand
Aquasolar
Availability
In Stock
Quantity
Description
Highlight
Special PROMOTION Package for Hot Water System + Water Booster Pump
1 x Aqua Solar Hot Water System (L66, 300 Liters) with Installation
~ Suitable for Single/Double Stories with 5 - 6 person showering 2 times a day.
~ Click HERE to find out more
1 x Grundfos CM3-5PM1 Water Booster Pump for Supply ONLY
~ Suitable for Single/Double Stories with 3 to 4 bathrooms.
~ Click HERE to find out more
Purchase with Purchase Promotion Item on top of the Package
- PureGen PGM942 Outdoor Sand Water Filter : RM680 RM590
- WaterCo W250 Outdoor Sand Water Filter : RM1250 RM1100
Aqua Solar L66 Solar Water Heater Malaysia (300 liters, c/w Installation)

L66 Technical Informations & Specifications
The L Series is suitable :
Residential / Commericial which requires :
• High temperature, mid efficiency
• Robust installation

FOR USAGE 6 TO 7 PEOPLE

| | |
| --- | --- |
| L SERIES | L66 |
| Warranty | 9 Years Warranty + 1 Year Guarantee |
| OVERALL DIMENSION | |
| Tank Capacity | 66 Gallons (UK) 300 Litres |
| Overall Dimension (L x W x Di) | 2438mm x 1820mm x 584mm |
| Weight – Full | 398kg |
| Weight – Empty | 93kg |
| STORAGE TANK | |
| Tank Dimension | 1830mm x 584mm |
| Outer Casing | Stucco Aluminium |
| Storage Tank Insulation | 50mm High Density Polyurethane Foam (CFC Free) |
| Cylinder Material | Marine Grade Stainless Steel |
| Nominal Working Pressure | 750 kPa |
| Test Pressure | 1500 kPa |
| Relief Valve Setting | 850 kPa / 99°C |
| Laminar Flow Stratifier | Yes |
| Electric Booster | 3 kW |
| SOLAR COLLECTORS | |
| Number Of panel | 2 |
| Surface Area (L x W x D) | 1854mm x 16200mm x 70mm |
| Number Of Riser Tubes | 20 |
| Method | Plate and Tubes |
| Collector Panel | Matt Black Aluminium / Copper |
| Casing Material | Aluminium |
| Glass Material | 3.2mm Tempered Glass |
| Efficiency | > 85% |

Designed to Meet Local Requirement :
A range of 66 & 80 gallon models to suit your needs

Retain Heats :
50mm High density polyurethane foam to maximum heat retention.

Top Quality Material :
High quality corrosion-free material such as stainless steel, copper and aluminum to ensure long life and performance.

Proven Safe :
About 70°C and safety feature of relief valve controls the heat pressures.

Back Up Heater :
To ensure hot water during raining season or over usage.

Number of Riser Tubes :
More tubes in the panel to ensure fast heating and optimum flow rate leading to higher efficiency and effectiveness.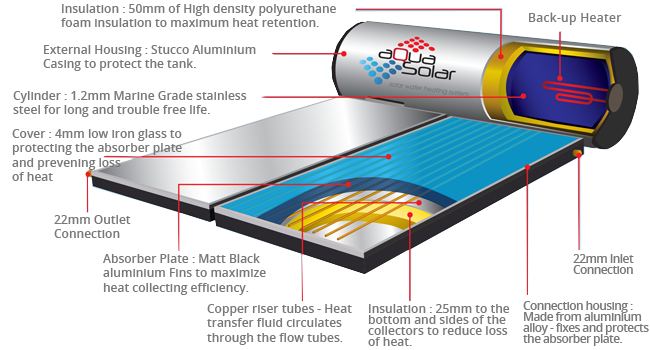 Grundfos CM3-5PM1 (CMB3-46PM1) Water Booster Pump
Grundfos CM3-5PM1 (Grundfos CMB3-46) Water Booster Pump
GRUNDFOS DOMESTIC BOOSTER PUMP CM3-5PM1 SUITABLE FOR 3-4 OUTLETS*
Grundfos CM3-5PM1 Water Pump Series 3-5 c/w PM1 PressureComtrol with built-in dry-running protection for automatic start/stop to provide and deliver instant water supply with good pressure for your daily needs.
*Grundfos CMB3-46 PM is the replacement model of CM3-5PM1 (start from 1st of April 2021)
Grundfos CMB3-46 manual book.
**Replacing Older model version CH2-50PC
*recommended outlets subject to size and specification of water fittings
Grundfos CM3-5PM1 Water Pump Price (Grundfos CMB3-46 Price)
CM-PM
The Grundfos CM-PM1 series pressure booster pumps is ideal for instant water heater showers while providing strong, constant water pressure around your house and garden. The CM-PM1 series is a compact, quiet yet powerful multistage pump with built-in pressure control and maintenance free design. Major pump components are manufactured from corrosion and wear resistant stainless steel for a longer life-span.
TECHNICAL DATA:
Power: 600 Watt
Discharge Pressure/ Output (psi/lpm): 69(max)/70(max)
Port Size (BSP): 1' inlet/outlet
FEATURES & BENEFITS OF GRUNDFOS CM-PM1:
○ Longer life - Major pump components are manufactured from corrosion and wear resistant stainless steel.
○ Quiet Operation - Both pump and motor are designed for quiet operation to provide a comfortable environment.
○ Quality Assurance - Each CM-PT is factory assembled and tested before delivery.
○ Product certified by SIRIM
○ Dru running protection
○ 2 years warranty (Extra 6 months for Online Registration)
○ Space saving
○ Easy installation